ABOUT US
We manage our diving in a familiar way. Usually we have groups of 5 to 6 divers for each dive and we like to have a close relationship with our clients that can rely on us to book transfer buses from and to the airports and for the inshore accommodation. We offer complete assistance. We select few places to stay and rest, from apartments to single rooms. At the time of booking we will take care of your needs and we will give you the best place you ask to meet your requirements. As soon as you arrive, after you complete accommodation formalities, we will give you all dives and boat details.The best way to spend a vacation on a little Island like "Marettimo" is to experience it from the water, on a good and confortable boat from where you can easily see and explore little coves, gulfs, small places between rocks with small sandy and rocky beaches and vertical walls falling into the sea.
This is not only a divers place but it will be an unforgettable moment for anybody likes and appreciates a vacation like this. My proposal here is to stay on the Boat "Martina"all day long coming back in the afternoon to have a nice dinner at the village and rest onshore. My Diving center is On the boat. Gears, cylinders and Suits stay on the boat. You can easily reach my "diving" after breakfast with your bath towel and something to eat, it really is that easy! All the day out in the sea and later, in the afternoon back at the village, without any hard work below the hot summer sun. No need to load and unload the boat under the sun, no small and unstable boats or Ribs, no lines and no waiting on the pier while wearing your diving suit , you'll have only sea, sun and shadow if you wish, baths and marvellous dives.
                                                Fabio Tedone
Our Team
Passion, competence and a good company
Who is Fabio Tedone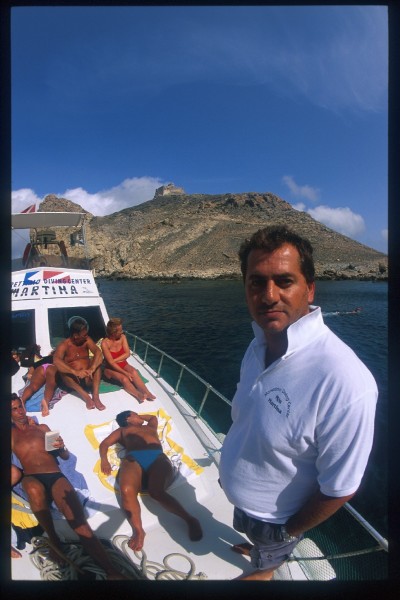 I think I was born with a fantastic passion for sea and nature and with an extreme, almost insane love for diving. Now I am almost 51 years old and when I was 13, I used for the first time a scuba tank and it was a realization. At that time, people used to approach the sea by free diving with such a hunting attitude…can you image having all that time available? At the age of 16, I attended my first scuba lesson and I decided I was going to make it my job, my father thought I was crazy. Once I graduated in 1984, I followed the courses to become a certified deep-sea diver specialized in underwater maintenance and repair operations. This had been my job from then to 1990. Probably because I was always under a dirty water, at the end of the day I was still laborer even if underwater, so I decided to change. I decided to go for tourism; I worked in a diving center for a while in Favignana. I liked it and I changed direction…I have known Marettimo from that summer of 1991 my first season on a raft, a couple of scuba tanks and a small air compressor…for a couple of years I had worked abroad in the Maldives, and during the summer on the island. It was emotionally impossible to live in the city at that point even for few days, so in 1994 I officially started residing on the island. I have always lived on the seaside and always dived, I have changed boats, I got married, I had kids…I have to say, probably I am a simple man, that for sure I have done more than 10000 dives, but, this surprises me, I always enjoy myself when I am underwater, I get excited and I feel home. These thoughts are not written in order to sell you vacations; it is what I really think. Who knows me, knows that. I realize I am lucky, sometimes it has not been easy to make my passion my job and if you do what you love, as a job, there is no way you cannot do it well.